Web-wizardry from the master.. apparently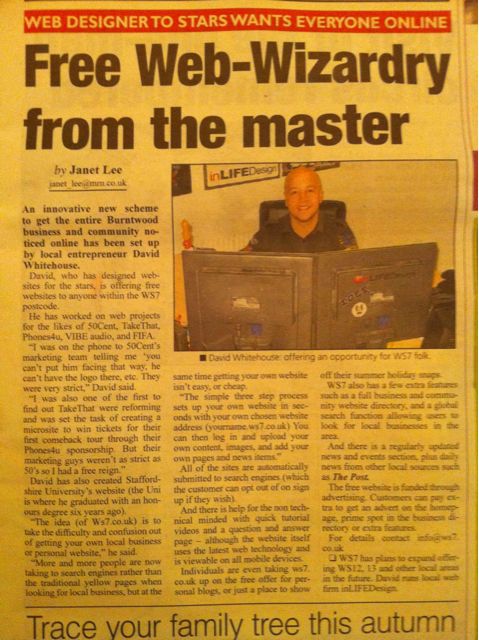 An image of my shiny bald head graced the first inside page of the local newspaper this week in the 'Burntwood Post' regarding the launch of WS7.co.uk. The website is a sideline project I have been working on in an aim to help get local business within my town online.
"An Innovative new scheme to get the entire Burntwood business and community noticed online has been set up by local entrepeneur David Whitehouse'
On top of designing and developing websites for a number of companies big and small I do a few sideline websites for local businesses. Although when it comes to smaller or new businesses a lot have no target on the web and simply just want to 'be online'
An online presence is important more now than ever with more and more taking to google over the yellow pages, and if local companies don't catch up they are going to fall behind. Yet at the same time getting a website can be confusing and often too expensive when all some companies want is a place on google.
This is where the idea for ws7.co.uk was born. With an essence of 'charity starts at home' the scheme is only available for local business in and around the Burntwood area (ws7 postcode) allowing not only business but the community to start their own website for free, no charge, easy log in and edit area with submission to search engines and your own domain name eg. yourname.ws7.co.uk.
The website stores an online business directory as well as local news, events and more. Funded through advertising WS7.co.uk allows users to get a website up and running in seconds, as well as advanced options to 'go pro' and get more themes and web space.
The local paper loved the idea and did a quick telephone / email interview to run the story.. 'Free Web-Wizardry from the master' all i need now is a wizards beard!